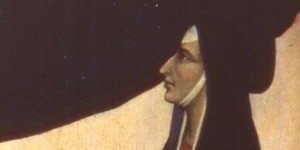 Go to the site (Caution: for the correct visualization you need to use W-Explorer 6.0 or higher)
The letters to her husband of Margaret, the merchant Francesco di Marco Datini , constitute one of the rare testimony of medieval women's writing. In a small way autograph, for the most part dictated to a scribe that, faithfully, records the words of the document also making a finding of orality, they return a parable of life, of feelings, relations.
This edition reproduces the original and their transcription, and is accompanied by the filing and the indices.
Finally offered a tentative translation of a selection of letters in current Italian and English. Is followed by an appendix teaching to be discovered.
Contributors to this realization:

Scientific project: Toccafondi Diana and John Tartaglione
Texts: Enrico goods, Diana Toccafondi, Drafting of the Historical Association of Prato, Simonetta Cavaciocchi, Gianni Cascone, Carolyn James
Indexes: Diana Toccafondi, collaboration of Jerome Hayez
Filing of letters: Elena Cecchi Auctions
Photos of the building: Dario Grimoldi
Production: © QUID – Florence Francesca Tartaglione