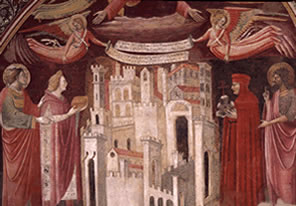 Francesco di Marco Datini was born in Prato around 1335 the Marco Datino of Toscanello of Accompanied by Bonfigliolo, taverniere, and Monna Vermiglia. In 1348, because of the terrible plague, is orphaned of both parents and passes under the tutelage of Piero di Giunta of the Red and the loving care of Mona Piera of Prato Boschetti who ever loved him like a son.
After attending various workshops in Florence where he learned the art of mercantile and numeracy, the young Francis, following the example of many compatriots, in March 1350, decides groped their luck abroad and left for Avignon, at once the seat of the Papal Court and one of the largest shopping centers in Europe. From there he began his illustrious career and its success.
& Nbsp;
& Nbsp;
In 1376, now rich and Mature Adult, while it is still in Avignon bride, with great pomp, a young Florentine, Margherita di Domenico di Donato Bandini.
From 1378 the complex history of the papacy in Avignon mean that loses somewhat of its attraction. Datini at the end of 1382, then, decides to return home. Accumulated considerable capital and especially built an extensive network of relationships with the merchant squares of the Mediterranean and Northern Europe, gives rise to a complex system of companies.
& Nbsp;
Once in Prato, begins the construction of the Palace, enriching – as it was in use in the wealthiest families – of frescoes commissioned from the best teachers in Florence (later also build a residence, Villa del Palco, in its land, Filettole.
By virtue of the prestigious positions reached in the economic field the Municipality of Prato offers him the position of Director and then that of Standard bearer of justice, recognition that the Datini does not seem too much like preferring taking care of business. On the social, instead, establishes relationships of respect and friendship with major Italian and foreign businessmen and his house in Prato, famously hospitable, attracts quite a few visits illustrious Francesco Gonzaga (Lord of Mantua), Leonardo Dandolo (Ambassador of the Republic of Venice) and the re Luigi II d'Angiò passing in Prato 1410, during its descent to a new central Italy. On that occasion the Angevin king gives the merchant of Prato, the lily of France to add to his coat of arms: "lily" that according to the ironic comment of the member of the Luca Evening, It cost him a loan of 1000 gold florins!
Francesco Datini died at his home in Prato, the 16 August 1410, and in the absence of direct heirs he left all his goods, evaluated around 100.000 gold florins, the poor of the city by establishing a foundation that currently exists: the Strain of the poor of Francesco di Marco.
With its substances, the merchant of Prato leaves – and this time the whole world – another wealth, precious: its archive, which constitutes, with due reservations and additions, the starting point for many studies on the economic and social life at the end of the fourteenth century.