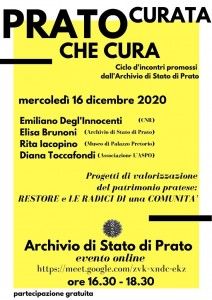 Wednesday,,it,ore,,en,as part of the PRATO CURATA cycle,,it,MEADOW THAT CARES,,it,in an online event,,it,Emiliano Degl'Innocenti,,it,Elisa Brunoni,,pl,Rita Iacopino,,it,Palazzo Pretorio Museum,,it,and Diana Toccafondi,,it,Association the ASPo,,it,friends of the State Archives of Prato,,it,they will talk about accessibility and enhancement of cultural heritage,,it,introducing,,it,e ,,en,The roots of a community,,it,two projects,,it,currently in the initial phase,,it,designed for the cultural heritage of Prato,,it,Leonardo Meoni introduces the meeting,,it,This is the link to follow the meeting,,it,https,,en 16 December , ore 16.30, nell'ambito del ciclo PRATO CURATA, PRATO CHE CURA, in un evento online, Emiliano Degl'Innocenti, CNR, Elisa Brunoni, State Archives of Prato, Rita Iacopino, Museo di Palazzo Pretorio, e Diana Toccafondi, Associazione l'ASPo, amici dell'Archivio di Stato di Prato, ci parleranno di accessibilità e valorizzazione del patrimonio culturale, introducendo RESTORE and Le radici di una Comunità, due progetti, attualmente in fase iniziale, ideati per il patrimonio culturale pratese.
Introduce l'incontro Leonardo Meoni, State Archives of Prato .
Questo il link per seguire l'incontro:
https://meet.google.com/zvk-xndc-ekz
The project RESTORE, cofinanziato dalla Regione Toscana, è curato dall'Istituto Opera del Vocabolario Italiano, l'Archivio di Stato di Prato, il Museo di Palazzo Pretorio di Prato, la Soprintendenza archivistica e bibliografica della Toscana con il coinvolgimento di SPACE s.p.a..
The project Le radici di una comunità è ideato e curato dall'Archivio di Stato di Prato in collaborazione dell'Associazione l'ASPo, amici dell'Archivio di Stato di Prato e il sostegno della Fondazione Cassa di Risparmio di Prato.